SMOK R-Kiss Kit
Images for display purposes only. Tank is 2ml capacity, as per TPD regulations.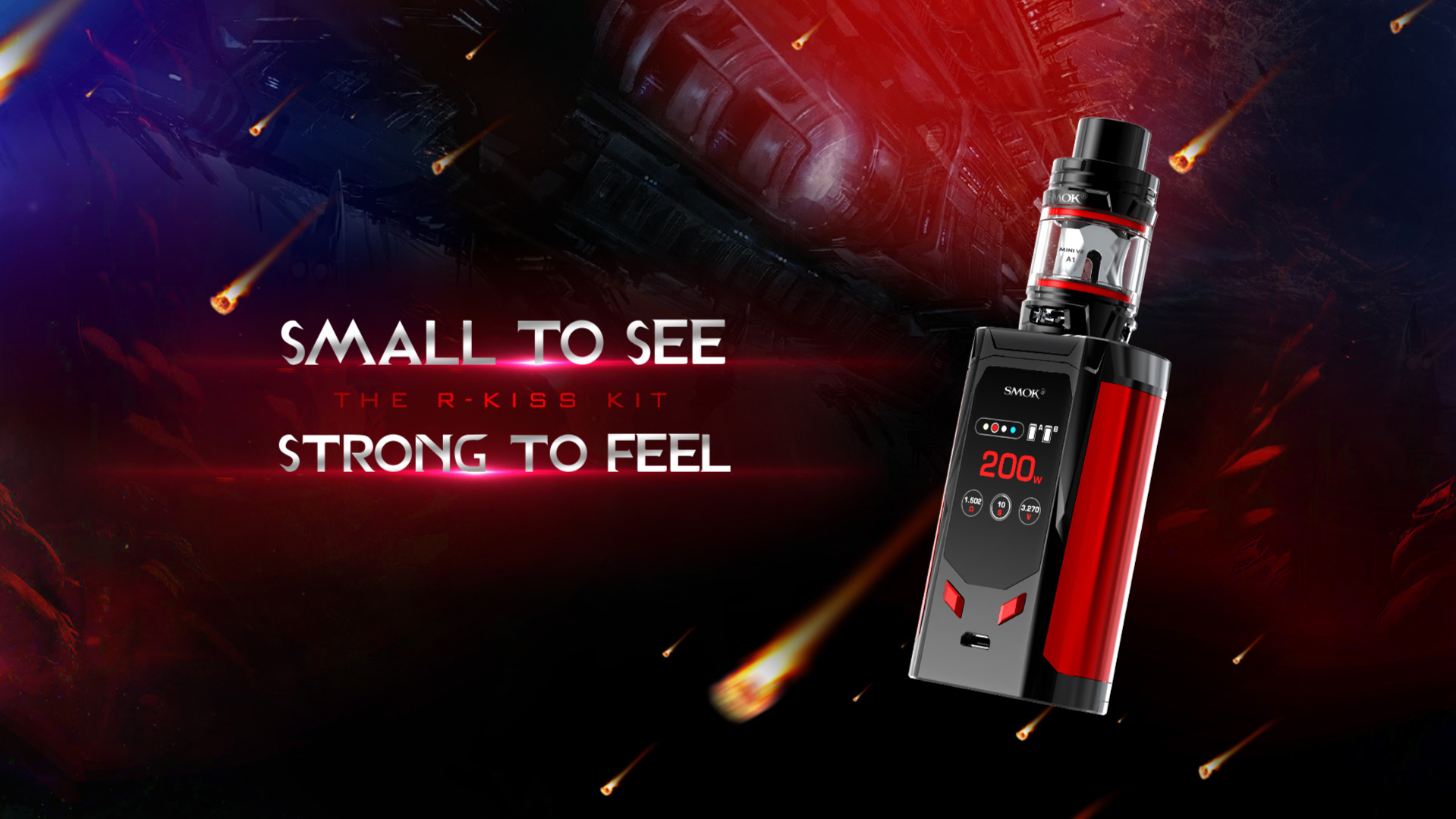 KISS is an acronym of 'Keep It Simple and Stupid'!
A simple two-colour combination endows this mod modern style with 200W max output power and a newly designed user interface for simpler functionality.
The new TFV-Mini V2 tank has three wider airflow slots with a huge range of new coil options.
5 COLOURS AVAILABLE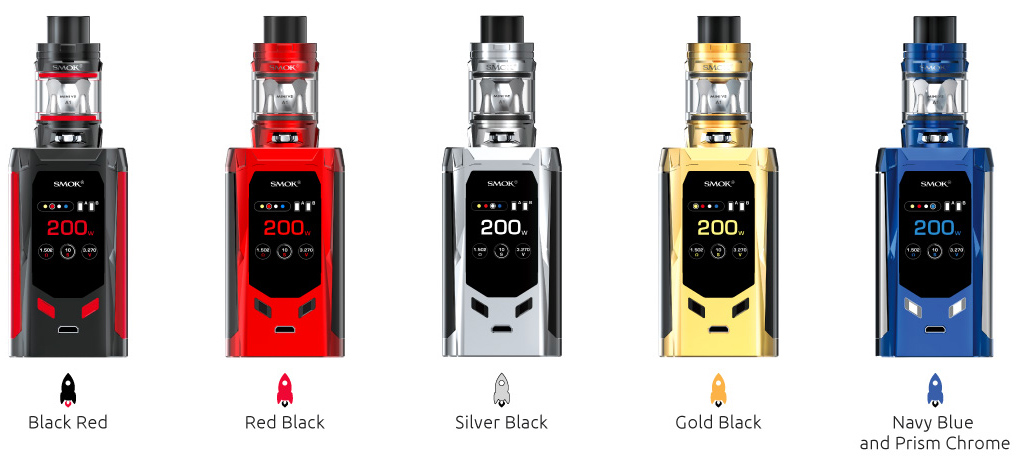 THE KIT INCLUDES
 MINIMALISM TO KEEP THINGS SIMPLE
R-Kiss kit follows a simple style of cuboid design with two-colour combination. Made without extra decoration, its user interface is far simpler than former designs.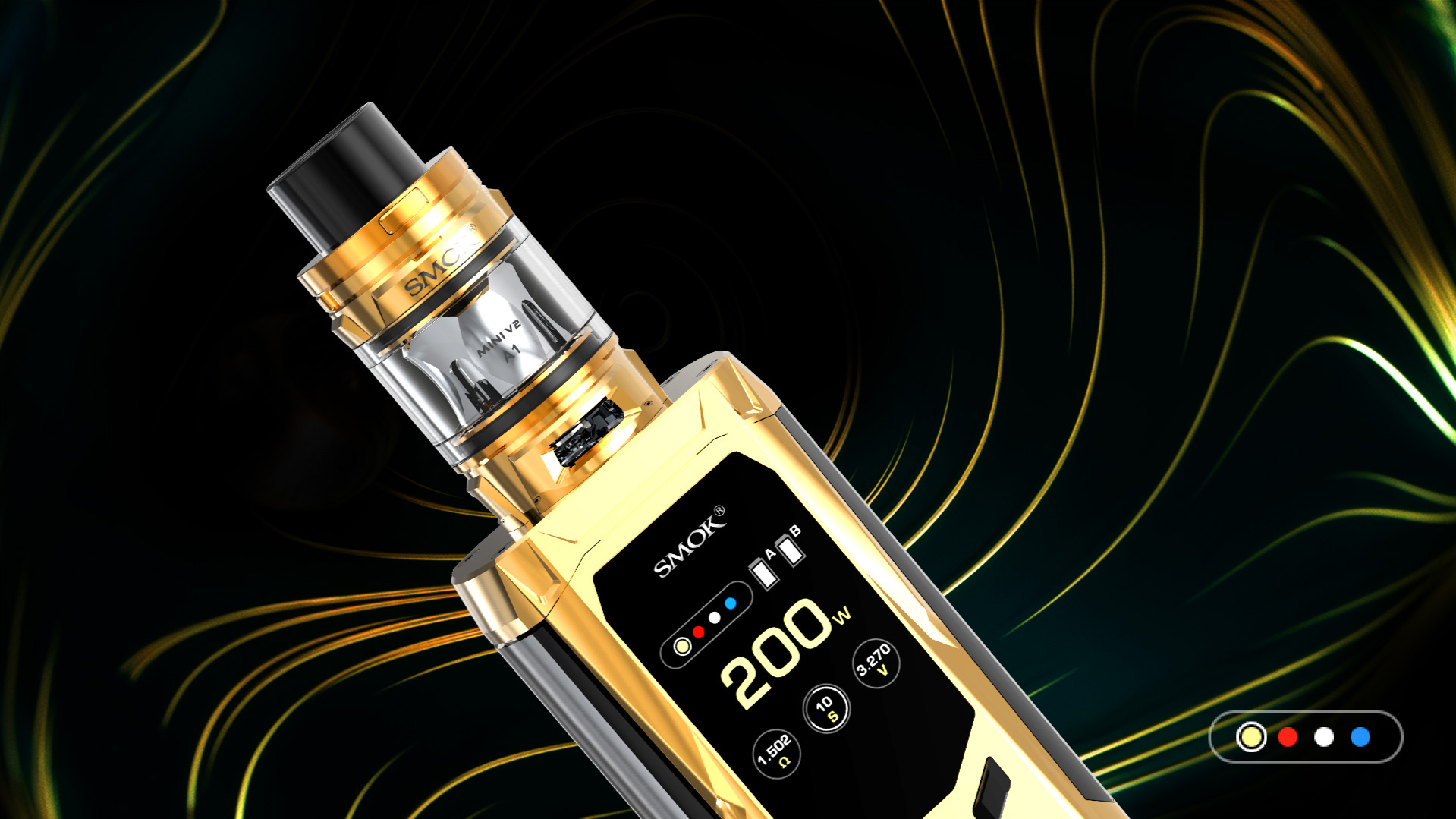 SPECIFICATIONS
SIDE PLACED FIRE KEY
R-Kiss has a big, lateral fire key, which is ergonomically designed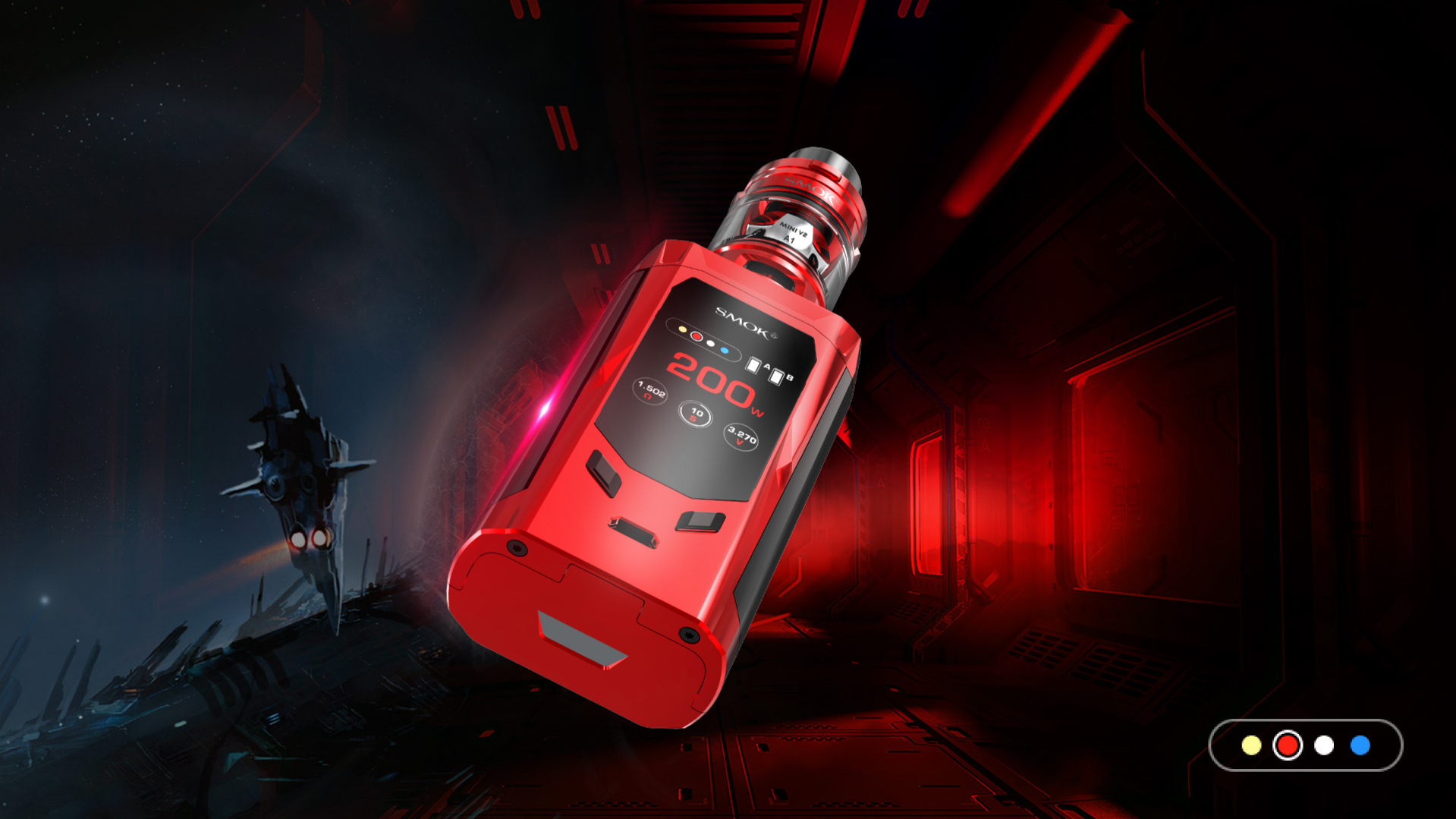 THE SMALLEST TWO x 18650 CELL POWERED MOD AVAILABLE
R-Kiss is different to your typical box mod kits. It is smaller and lighter, which will satisfy your needs for both strong power but in a portable size. Measuring just 77mm in height, with 44mm width, it is the current smallest 2 x 18650 battery box mod available worldwide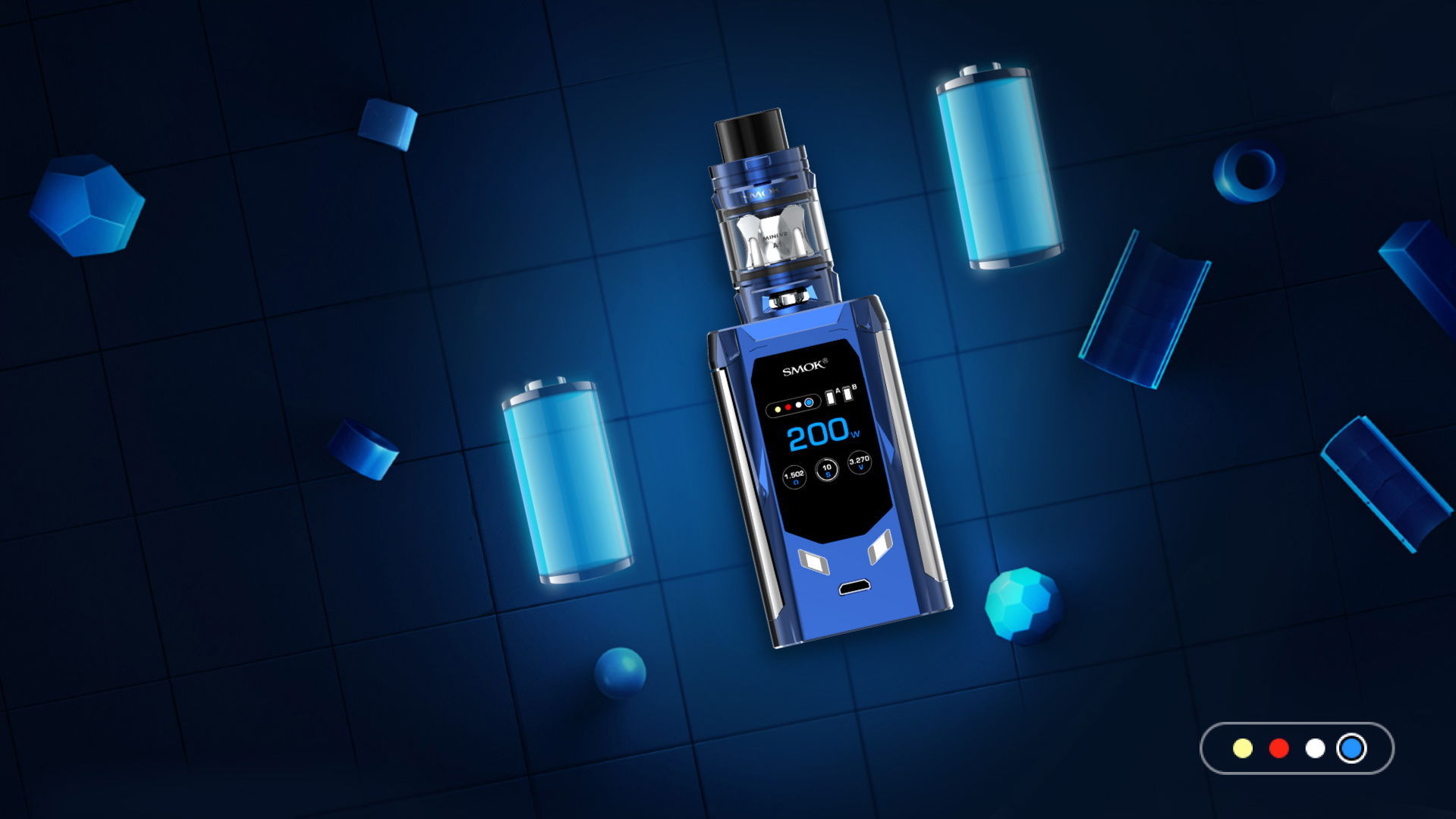 COMPONENTS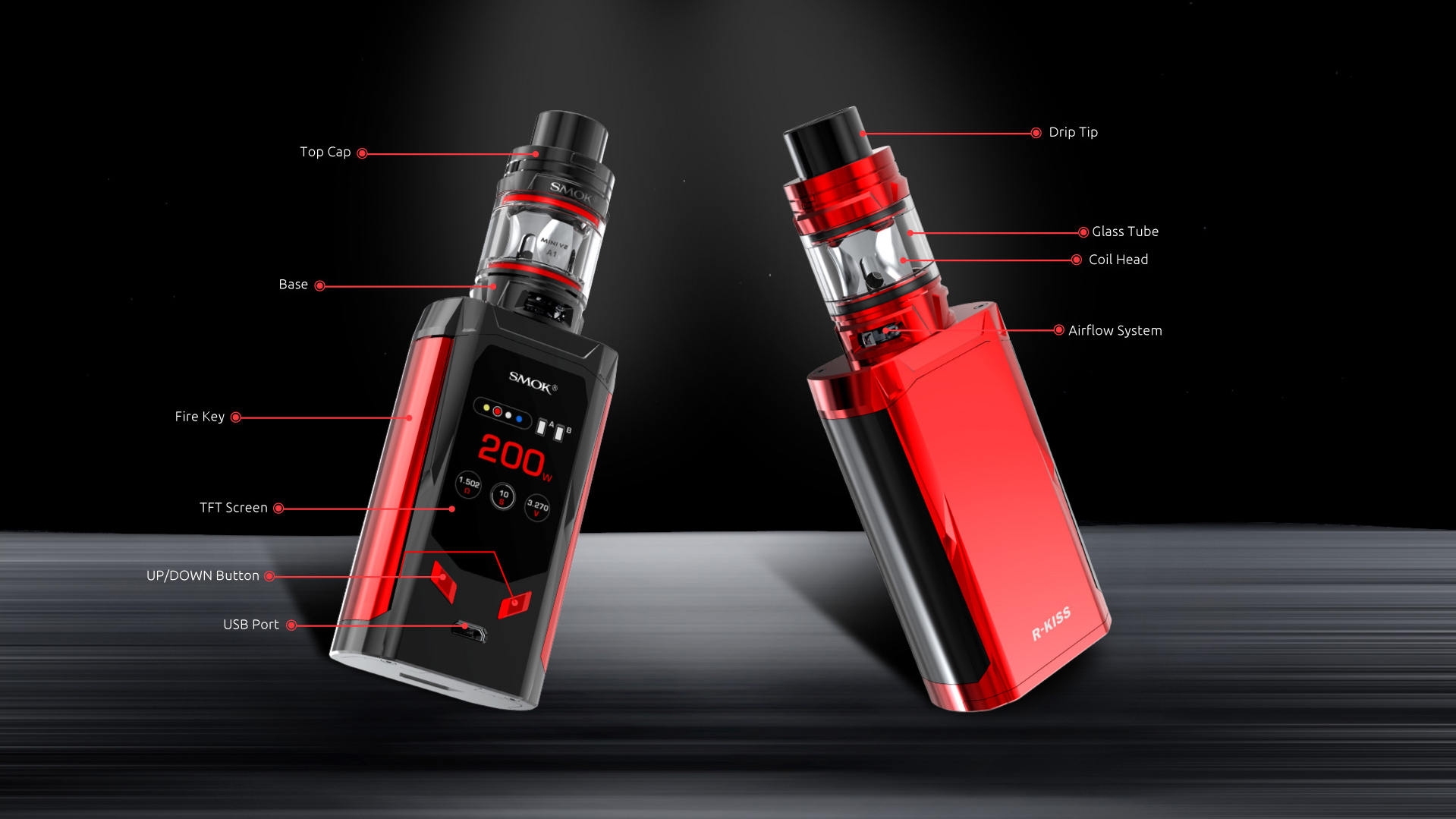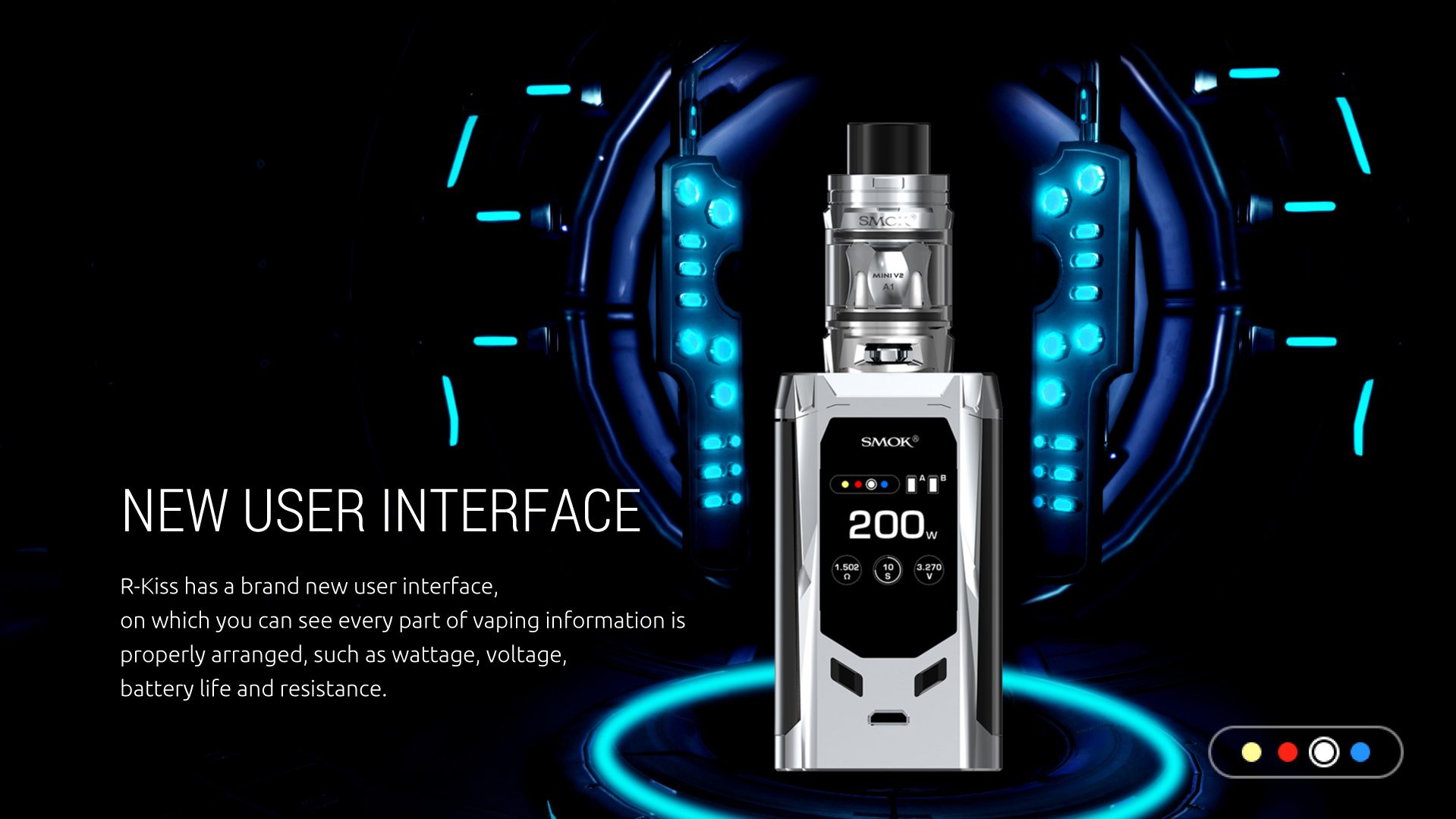 FOUR COLOUR SCREEN SETTINGS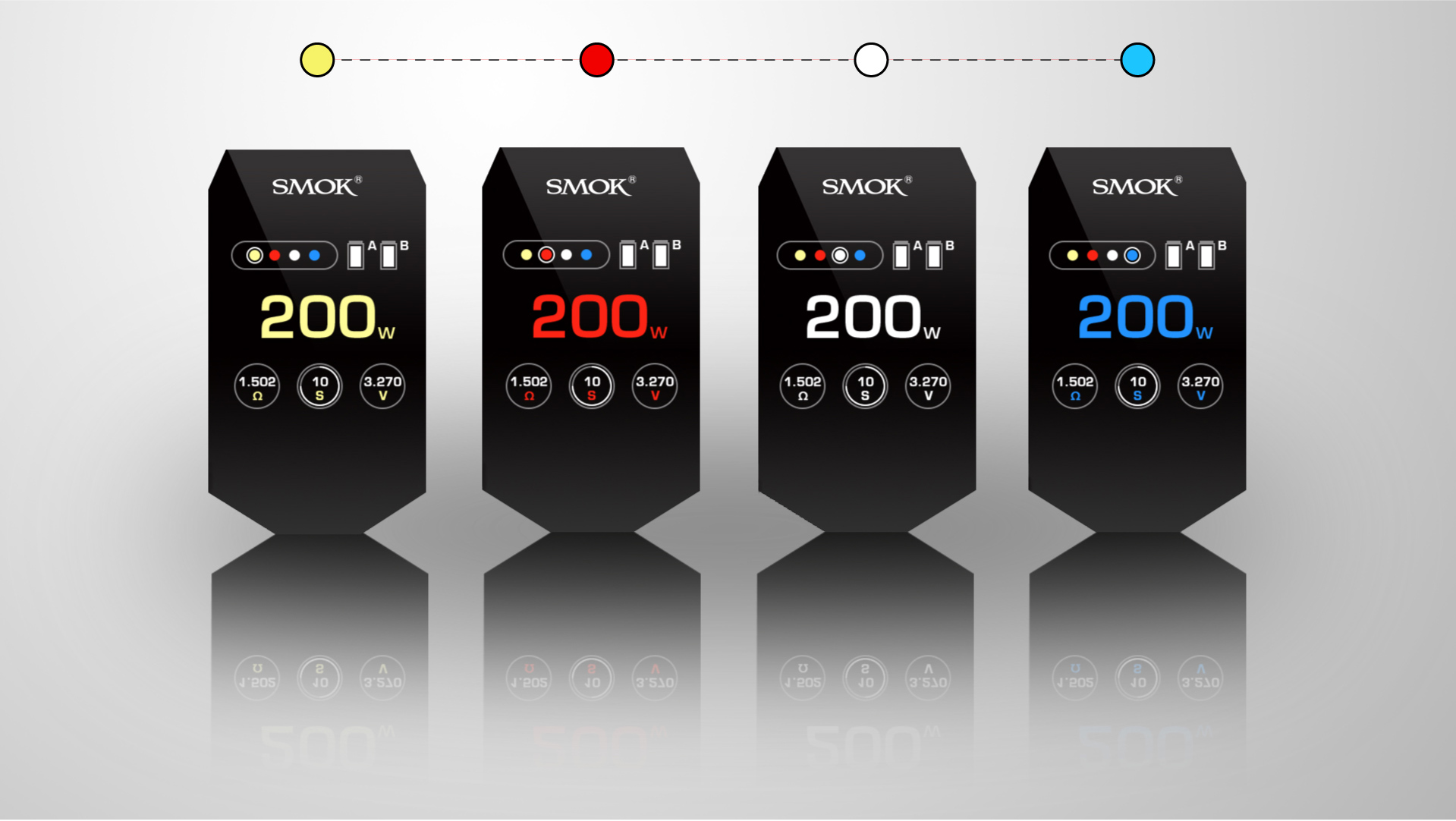 200W OUTPUT POWER
The maximum output power of R-Kiss is 200W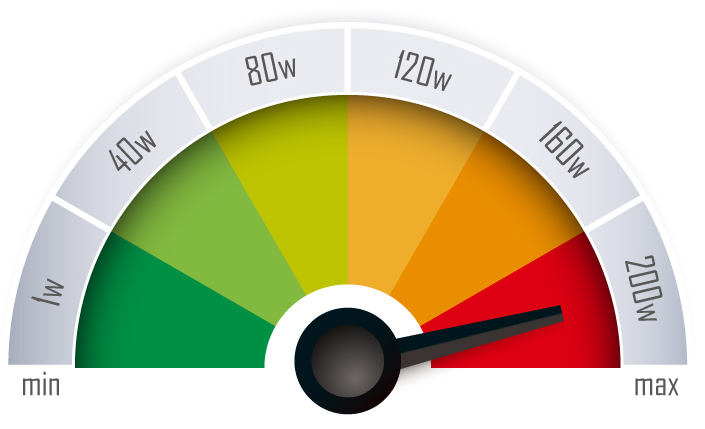 DUAL BATTERY LIFE INDICATOR
R-Kiss kit is powered by two 18650 batteries, set in series. The dual battery life indicator on the TFT screen shows you the accurate conditions of your cells.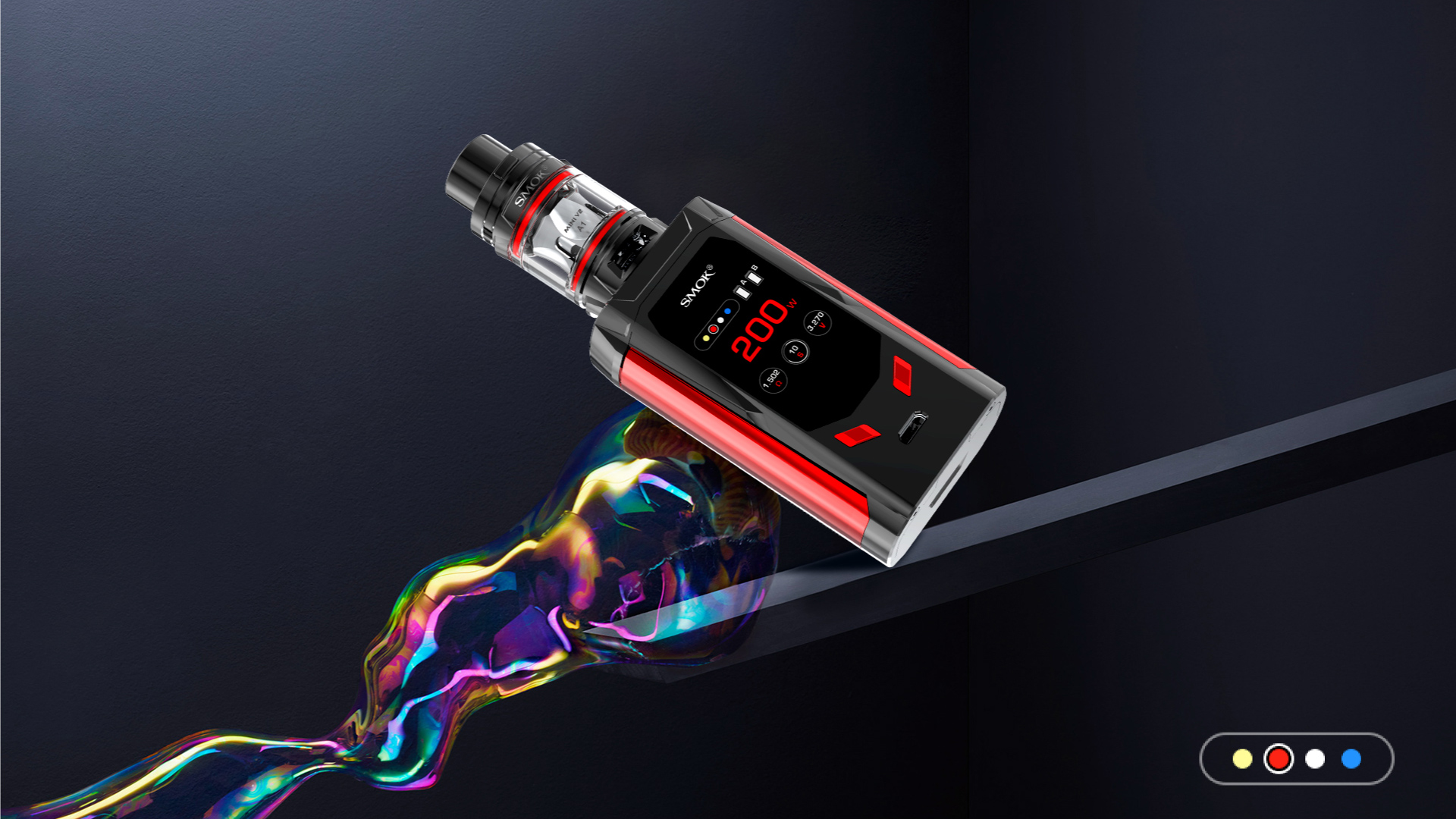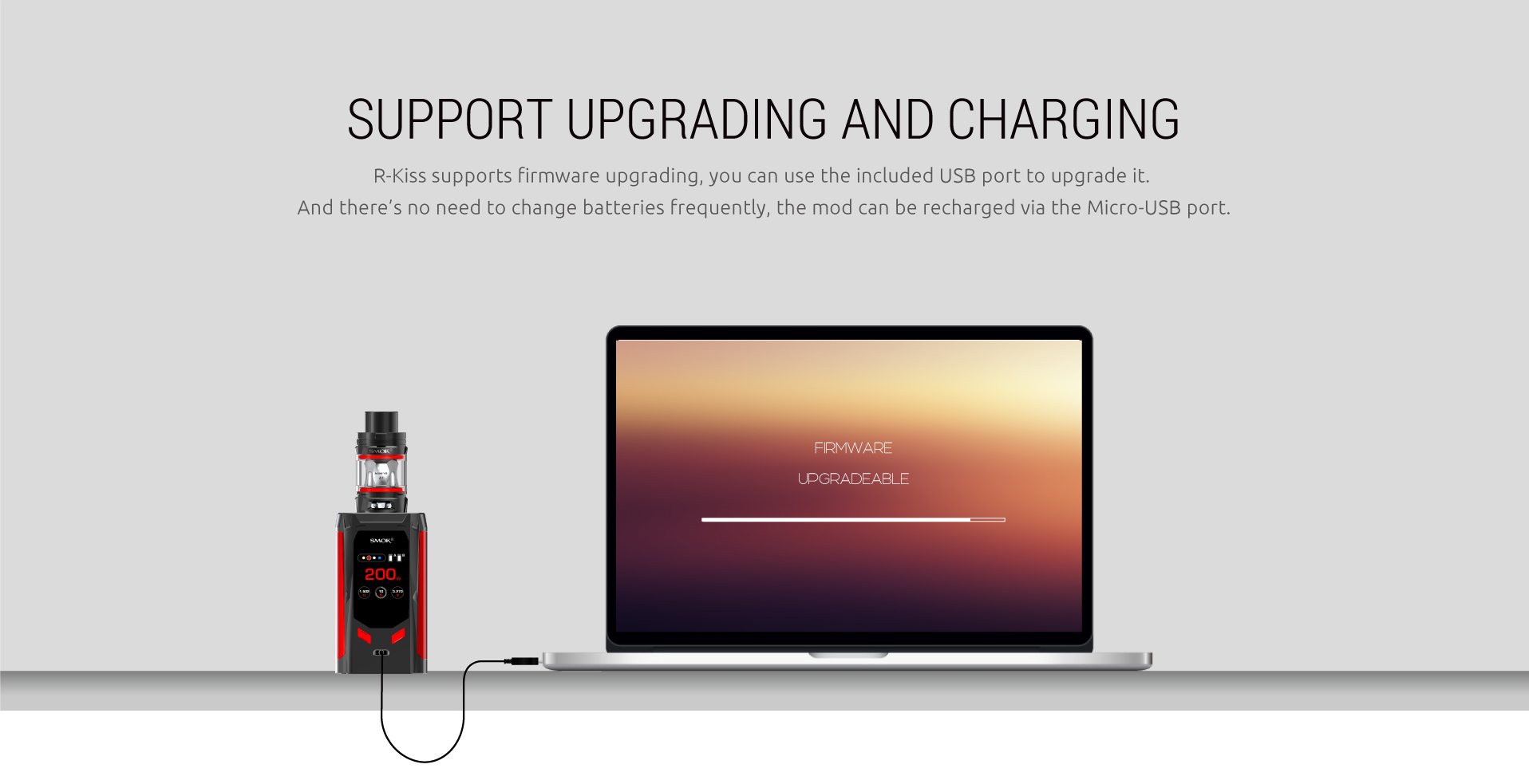 BATTERY INSTALLATION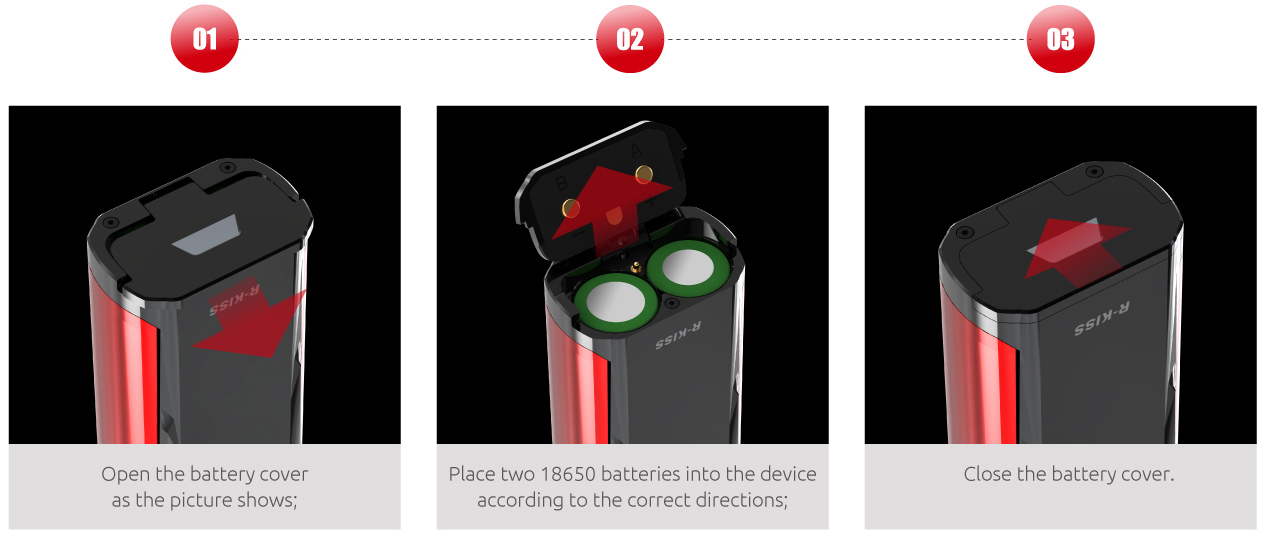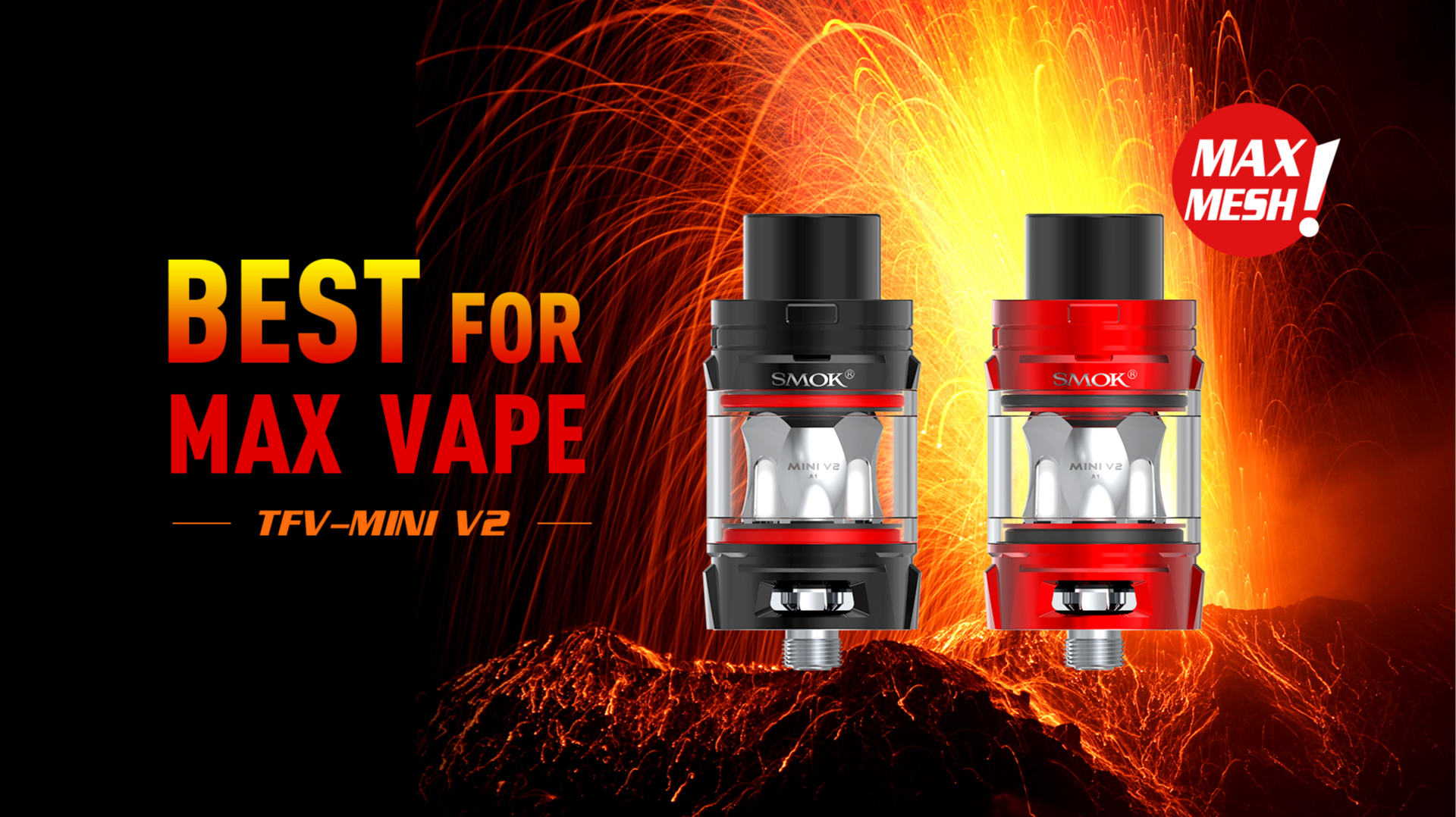 MINI V2 COIL FAMILY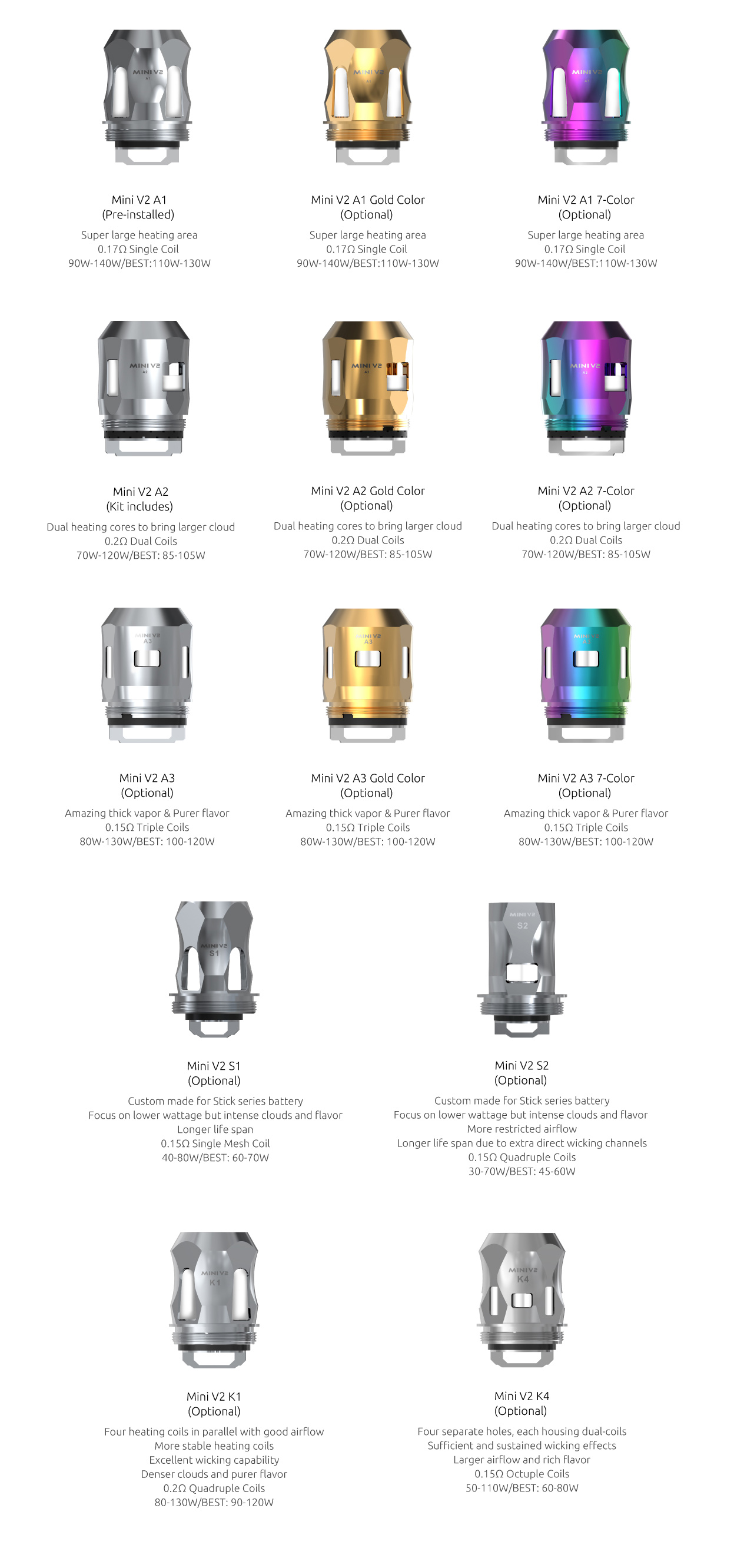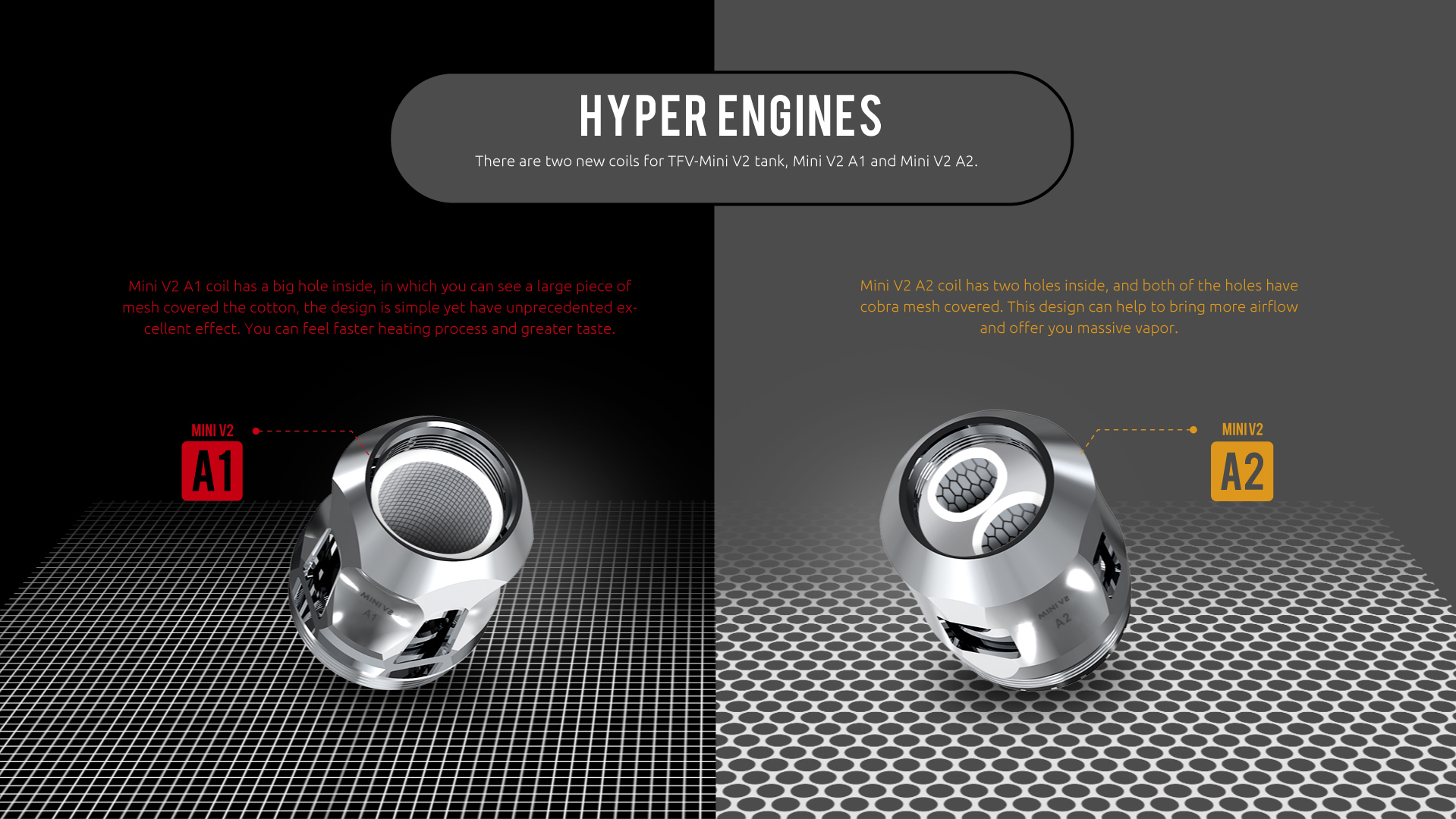 MINI V2 A3
The A3 coil has three separate heating coils, combined with three larger airflow slots at the bottom of the tank, meaning more air can be let in. Not only that, when you fire to vape, the three coils will heat simultaneously which can bring you unprecedented huge & thick vapour production!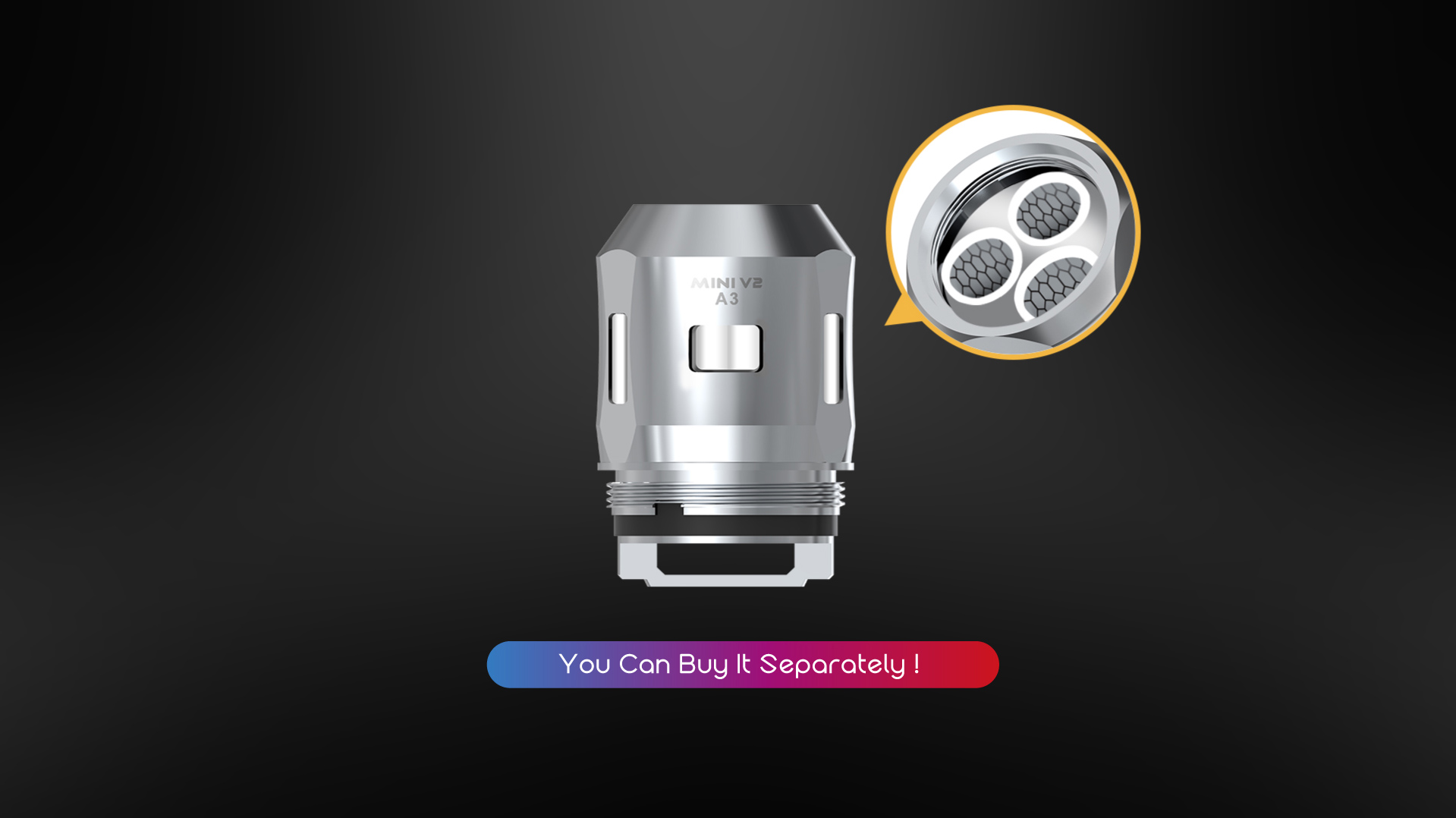 16MM V2 MINI EXCLUSIVE DELRIN DRIP TIP
The specially made drip tip has the perfect diameter and has a simple press fit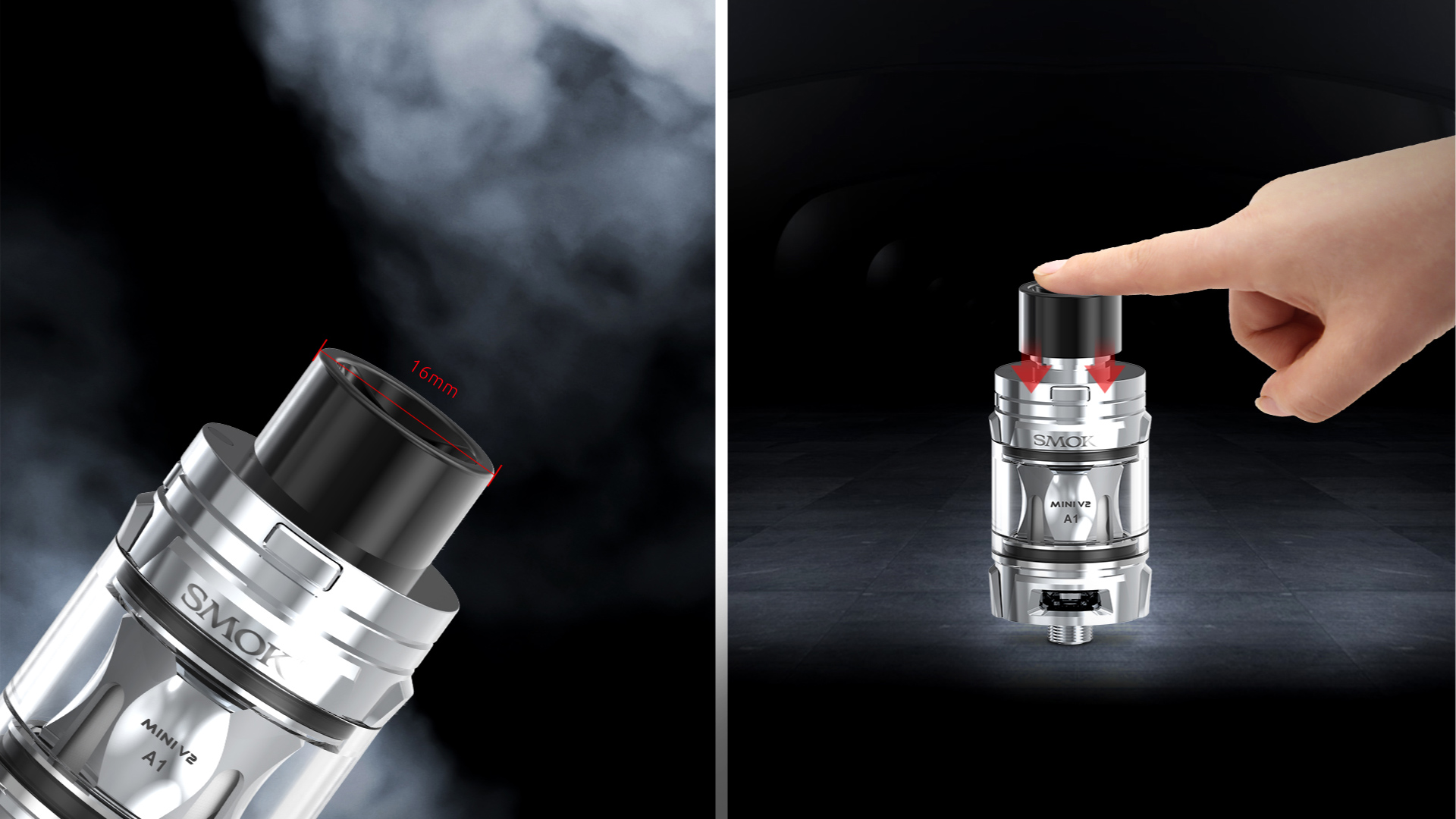 MINI V2 COBRA RESIN DRIP TIP
The 16mm V2 MINI Exclusive Delrin Drip tip also has a cobra edition to choose from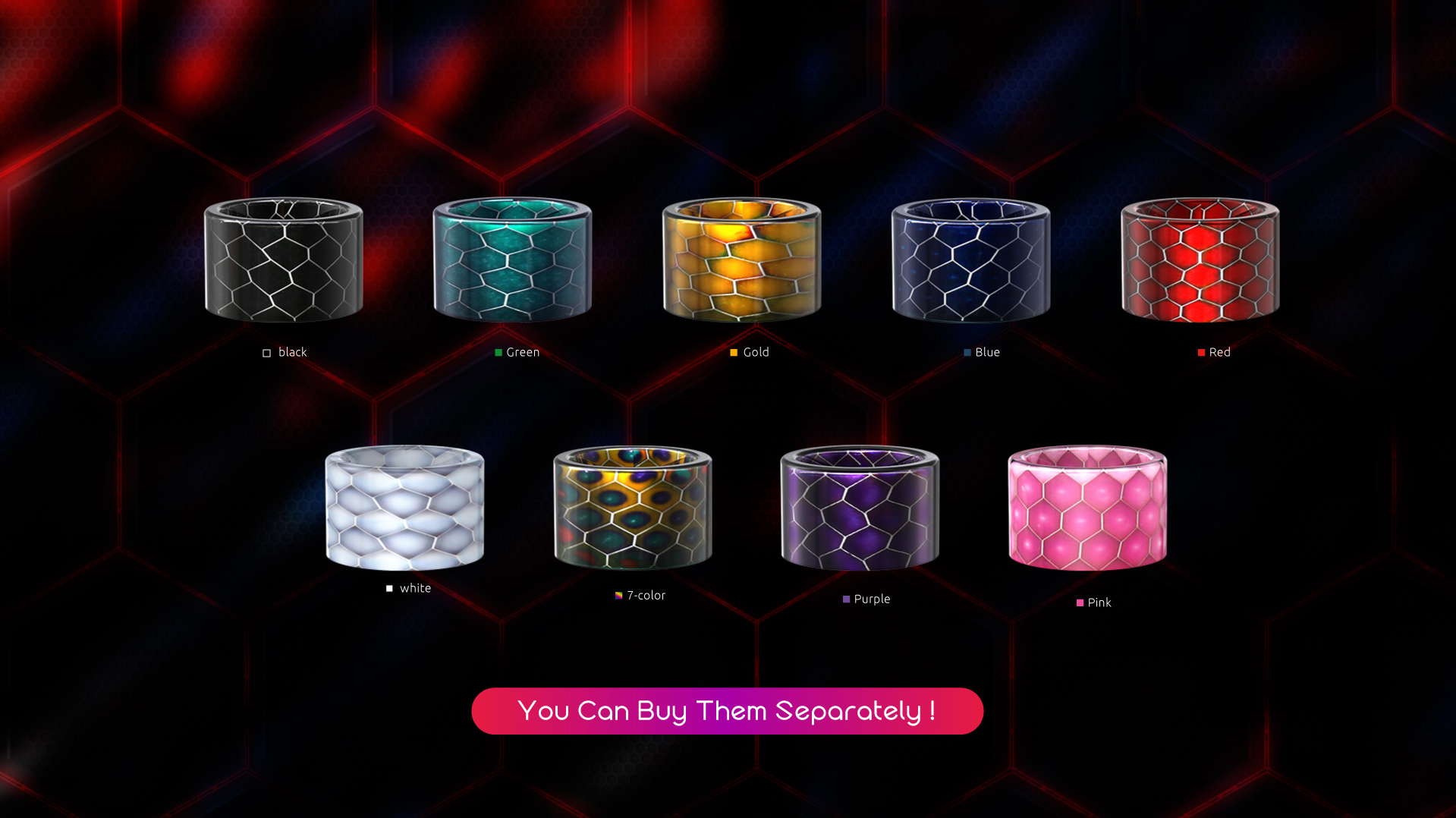 TOP REFILLING
The SMOK top rotary refill system makes filling your tank easy. The leak proof slot helps solve leaking problems.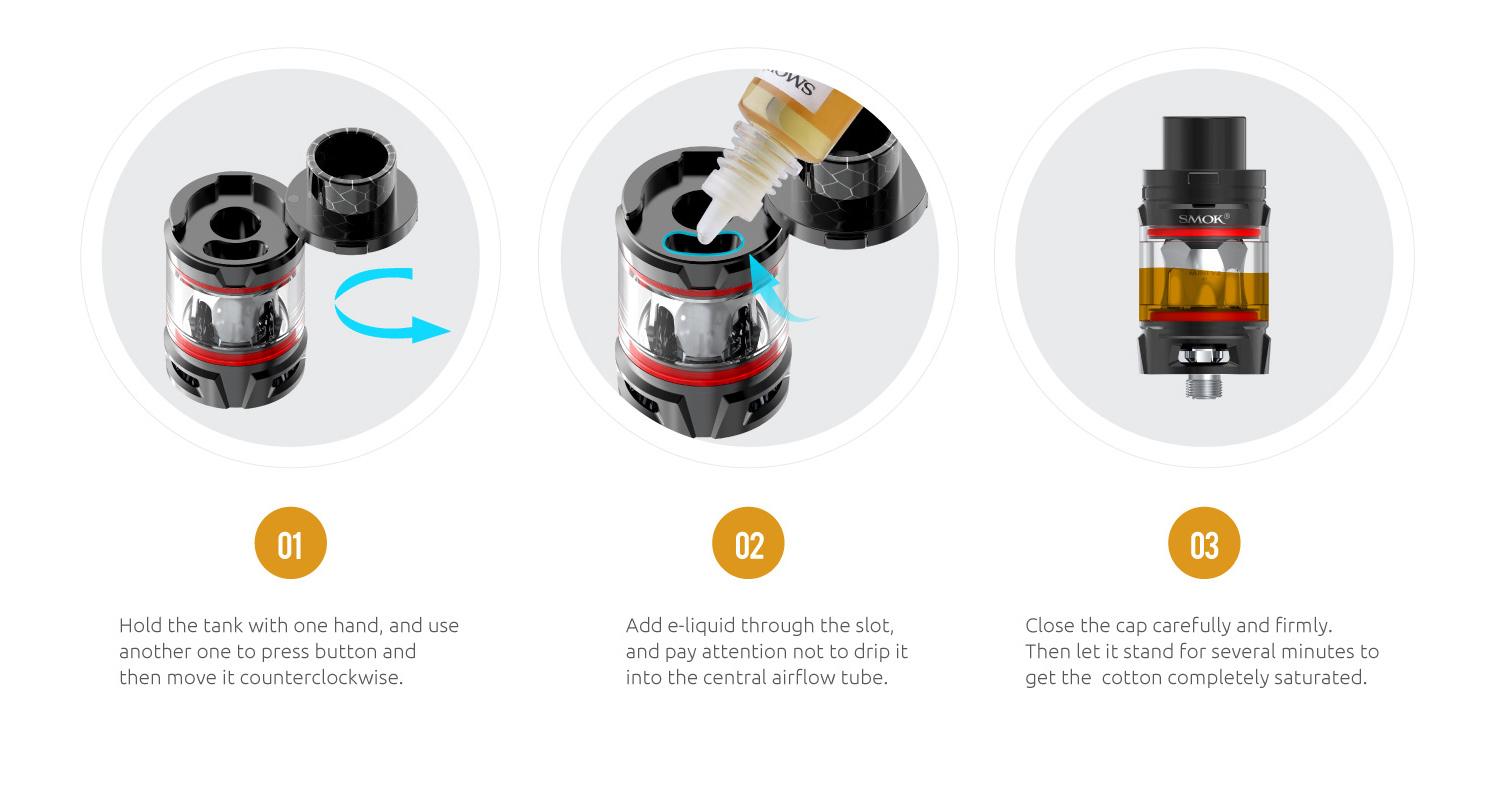 The SMOK R-KISS 200W Starter Kit optimizes the technological prowess of an intelligent chipset, featuring a 200W maximum output with phenomenal display resolution within a compact striking visual design to pair with the TFV8 Baby V2. The SMOKTech R-KISS is one of the lightest dual battery mods available, featuring sharp angular lines and colored accents that really help fulfill the color scheme with a TFT display screen placed front and center. This display screen outputs the proper and accurate vaping data to be relayed to the user in a clean crisp manner. Pre-Installed with 4 different user layout options, the R-KISS lives up to its' name of "Keeping It Simple & Stupid". The 200W output is made possible with the utilization of dual high-amp 18650 batteries to power this vape system when needed the most. With an oversized firing button placed on the left of the device, the R-KISS is created with ergonomic hand feel design in mind, and truly adheres to the theme of simplicity. Paired with the SMOK TFV8 Baby V2 Tank, the R-KISS makes for great vape kits for novices and advanced users alike.
SMOK R-Kiss 200W Box Mod Features:
Dimensions – 77mm by 44mm by 28mm
Weight – 120.3g
Dual High-Amp 18650 Batteries – Not Included
Output Wattage Range: 6-200W
Output Wattage Range: 0.5-8.2V|
Resistance Range: 0.1-2.5ohm
VW Mode
Zinc-Alloy Chassis Construction
Ergonomic Design
TFT Display Screen
4 Option User Interface
Oversized Firing Button
Two Adjustment Buttons
Bottom Hinged Battery Door
MicroUSB Charging Port
Centered 510 Connection
Available in Black Red, Red Black, Gold Black, Navy Blue, Silver Black
SMOK TFV8 Baby V2 Sub-Ohm Tank Features:
25.4mm Base Diameter
30mm At Widest Point
5mL Maximum Juice Capacity – Convex Glass Extension
Superior Stainless Steel Construction
High-Grade Glass Reinforcement
High-Temperature Resistant – Explosion Proof
Convenient Top-Fill Rotary Design – Lock Button Mechanism
Massive Triple Adjustable Airflow Control at Base
Performance-Grade TFV8 Baby V2 Coil System
0.17ohm Baby V2 A1 Single Coil – rated for 90-140W
0.2ohm Baby V2 A2 Dual Coil – rated for 50-80W
Antibacterial Medical Cotton
16mm Wide Delrin Widebore Drip Tip – Exclusive Fitment
Gold-Plated 510 Connection
Available in White, Stainless, Black, Blue Prism, Green, Red, Rainbow, Gold
Includes:
1 SMOK R-Kiss 200W Box Mod
1 TFV8 Baby V2 Tank
1 0.17ohm Baby V2 A1 Single Coil
1 0.2ohm Baby V2 A2 Dual Coil
1 Replacement Glass Tube
1 MicroUSB Charging Cable